Takis Fellas
Principal Financial Consultant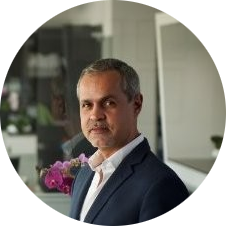 Takis combines decades of experience working within the Banking, Audit and Consulting sectors in the US and the EU. His career started in the banking industry in Chicago as a Financial Analyst while he was later appointed as a Corporate Credit Consultant in Athens. In 2004 he moved to Cyprus to work as a turnaround expert at the islands' principal corporate turnaround institution. As such, he is trusted to work with and consult a wide range of local and international organizations.
Accordingly, his mission is to focus on the big picture and bring change, create and/or realize value for companies, clients, associates, and partners. To the point and laconic, he is unconditionally trusted to form teams, assimilate information, and draw insightful conclusions and sustainable solutions for companies and captains of industry. Takis uniquely progressive, competent, and effective approach towards life and business challenges inspires trust and confidence across the board.
Since 2008, he is the Managing Director of Growth Partners, a boutique consulting and auditing firm that serves multiple sectors in the local and international business arena. On the academic front, Takis holds a Bachelor in Finance from Southern Illinois University and an MBA from North Park University in the USA. He is also a Fellow of the UK Association of Chartered Certified Accountants (FCCA) and a member of the Institute of Certified Public Accountants of Cyprus (ICPAC).